L200
Engineered Beyond Tough
Strong Looks
Sculpted lines and bold features define a powerful character. Shielded by a strong, dynamic front face, the body is robust, yet stylish and sporty. This is a pickup truck designed for toughness from grille to tailgate.
The new face of Mitsubishi
The Dynamic Shield Design concept powerfully expresses the notion of high performance promise and a sense of protection – for both the passengers and passerby. Dynamic Shield Design has evolved over generations of Mitsubishi vehicles and the current iteration is the embodiment of form following function.
Durable Design
In front, a more rigid engine compartment and double striker in the hood safety mechanism contribute to enhanced durability and safety. In the cargo bed, the rear corners are specially reinforced to disperse the force of impact when cargo shifts and prevent damage such as cracks in the side panels.
Room to Spare
Great styling combined with tough reliability. The solidly reinforced and spacious cargo bed offers all the storage space you need.
Graphite Gray Metallic

Impulse blue Metallic

Quartz White Pearl

Quartz brown metallic

Sterling Silver Metallic/span>

Sunflare Orange Pearl

White Diamond

White Solid
Wide Open Spaces
Travel comfortably in the double cab, which offers class-leading space and leg-stretching relaxation. Ergonomically designed, high-quality seating raises driving pleasure for all occupants. Strategically placed sound insulation and vibration damping material further contribute to a quiet, comfortable ride. Everything you need, including convenient storage features is here to support a pleasurable journey.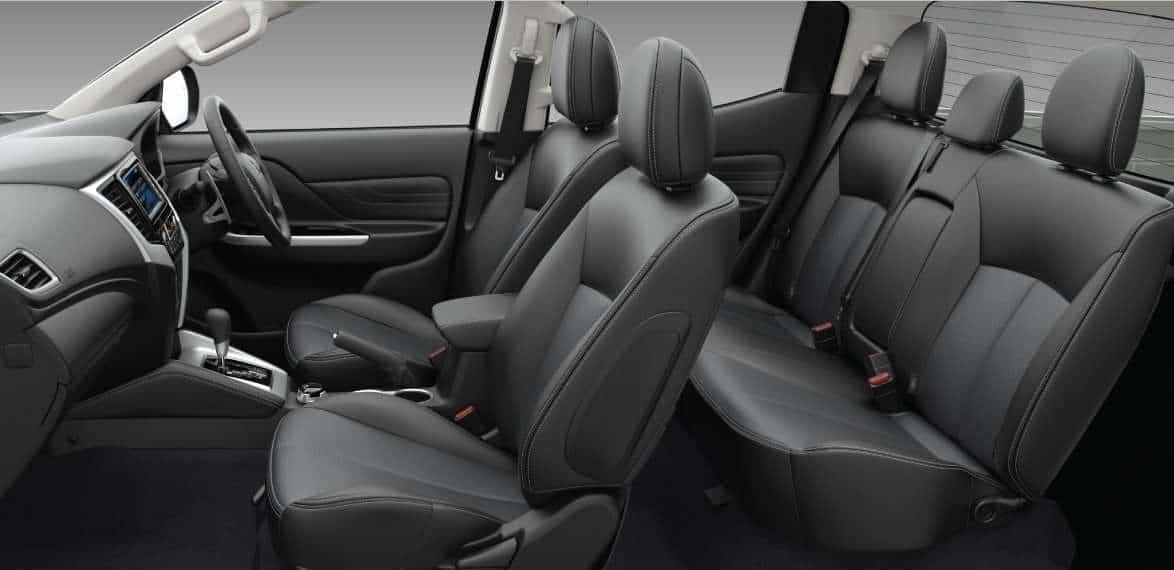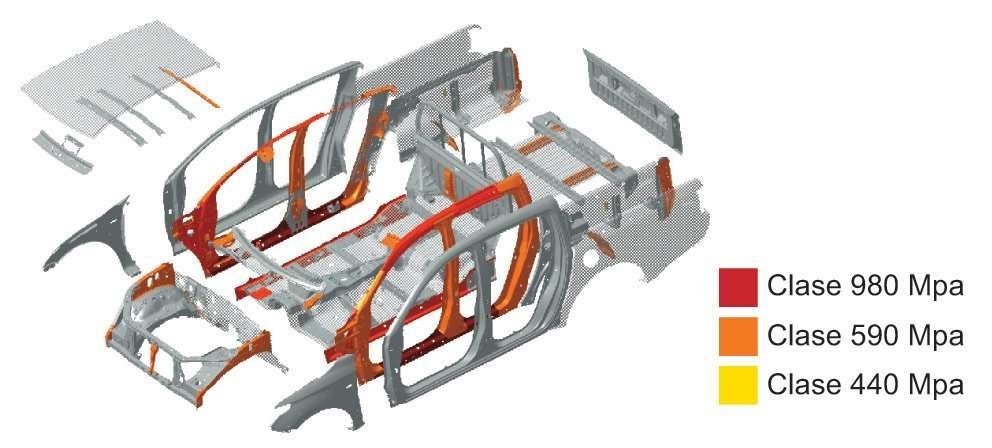 Rigid Lightweight Body
The body is extremely sturdy and lightweight due to the generous use of high tensile strength steel plates that also contribute to a high level of collision safety.

Hill Descent Control
Pressing the HDC mode selector activates the HDC, which automatically applies the brakes to maintain your current speed when traveling downhill. This lets you concentrate on steering and travel downhill with greater safety without having to manually apply the brakes.
Active Stability and Traction ControlHill Descent Control
Active Stability & Traction Control independently regulates braking force to the wheels during cornering to help maintain excellent vehicle stability when needed. It also optimizes traction to prevent loss of torque whenever wheel spin is detected by controlling engine output and applying brake force to the spinning wheels
Enhanced Rear Suspension
Ride in comfort with rear suspension that can handle rough and bumpy road surfaces with ease. Optimized leaf springs and increased diameter for the rear shock absorbers give a smooth ride and neutralize vibration
Keyless Operation System
While carrying the key, you can press a button on the outside of either front door to lock or unlock all the doors, or press the engine switch in the cockpit to start the engine.

Hill Start Assist
When starting on a steep slope, HSA helps prevent you from rolling backwards while you release the brake by maintaining the braking force for up to two seconds until the accelerator is applied.
Tough Suspension
The rugged suspension features double wishbones with coil springs and a stabilizer bar in front, plus nononsense above-the-axle leaf springs in the rear for outstanding traction. The ride is stable and comfortable for all occupants
SRS Airbags
In the event of a collision, SRS airbags help protect you and your passengers by absorbing the force of impact. The system includes front airbags and a driver's knee airbag.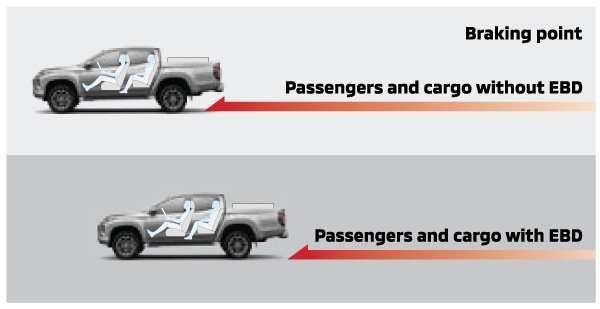 Anti-lock Braking System with Electronic Brake-force Distribution
ABS allows you to maneuver safely around obstacles even during emergency braking. EBD (Electronic Brake-force Distribution) assists by applying additional force to the rear brakes as needed, enabling quicker stops even when carrying passengers and heavy loads.
Body type

 
 
 
 

Double Cab

Single Cab

Drive system

 
 
 
 
 

4WD

4WD

 

Price class

 
 
 

GLS

 

GL

GL

 

Model Code (RHD)

 
 

KL1TJJHFLR

 

KL1TJLHFLR

 

KL3TJNJTR

KL3TENJTR

Dimension & Weight

 
 
 
 
 
 
 
 
 
 
 

Overall length

 

mm.

 

5,220

 

5,220

5,095

 
 
 

Overall width

 

mm.

 

1,815

 

1,815

1,815

 
 
 

Overall height

 

mm.

 

1,780

 

1,775

1,780

 
 
 

Wheelbase

 

mm.

 

3,000

 

3,000

3,000

 
 
 

Track

Front

mm.

 

1,520

 

1,520

1,520

 
 
 
 

Rear

mm.

 

1,515

 

1,515

1,515

 
 
 

Bed interior length

 

mm.

 

1,520

 

1,520

2,265

 
 
 

Bed interior width

 

mm.

 

1,470

 

1,470

1,470

 
 
 

Bed interior height

 

mm.

 

475

 

475

475

 
 
 

Min. ground clearance

 

mm.

 

210

 

200 (210*)

200 (210*)

 
 
 

Cargo floor height

 

mm.

 

850

 

845

845

 
 
 

Kerb. Weight

 

kg.

1,865

 

1,870

 

1,790

1,705

 
 
 

Gross vehicle weight

 

kg.

 

2,850

 

2,850

2,760

 
 
 

Seating capacity

 

person

 

5

 

6 / 5 (with OPT:K05)

3 / 2 (with OPT:K05)

 
 

Performance

 
 
 
 
 
 
 
 
 
 
 

Max. speed

 

km/h

162

 

163

 

147

147

 
 
 

Min. turning radius

 

m.

 

5.9

 

5. 9

5. 9

 
 
 

Engine

 
 
 
 
 
 
 
 
 
 
 

Type

 
 

4N15 D4 DI

 

4D56 D4

4D56 D4

 
 
 

I/C T/C DOHC 16 Valve, 4 Cylinder, Diesel

 

DI T/C

DI T/C DOHC 16 Valve, 4 Cylinder, Diesel

 
 
 
 
 
 
 
 
 
 
 
 

Displacement

 

cc.

 

2,442

 

2,477

2,477

 
 
 

Bore & Stroke

 

mm.

86.0 x 105.1

 

91.1 x 95.0

91.1 x 95.0

 

Compression ratio

 

kW / rpm

 

15.5

 

17.0

17.0

 
 
 

Max. output (DIN NET)

 
 

100/3,500

 

81/4,000

81/4,000

 
 
 

Max. torque (DIN NET)

 

Nm / rpm

324/1,500-2,500

 

200/1,500-3,500

200/1,500-3,500

 
 
 

Electric & Fuel system

 
 
 
 
 
 
 
 
 
 
 

Fuel supply equipment

 
 

Electrical Fuel Injection

 

Electrical Fuel Injection

Electrical Fuel Injection

 
 
 

(Common rail)

 

(Commonrail)

(Commonrail)

Fuel tank capacity

 

Lit

 

75

 

75

75

 
 
 

Transmission

 
 
 
 
 
 
 
 
 
 
 
 
 
 

Single, dry

 

3-element,

 

Single, dry

Single, dry

Clutch

 
 

plate with

 

1-stage,

 

plate with

plate with

 
 

diaphragm

 

2-phase,

 

diaphragm

diaphragm

 
 
 

spring

 

hydraulic

 

spring

spring

 
 
 
 
 
 
 
 
 
 
 

Type (Manual floor change)

 
 

6MT

 

6AT

 

5MT

5MT

 
 
 

(V6M5A)

 

(V6AWH)

 

(V5M21)

(V5M21)

Steering

 
 
 
 
 
 
 
 
 
 
 

Type

 
 
 
 

Rack & Pinion with Power steering

 
 
 
 

Suspension

 
 
 
 
 
 
 
 
 
 
 

Front

 
 
 
 

Independent-Wishbone, Coil springs

 
 
 
 

Rear

 
 
 
 
 

Rigid, Elliptic leaf springs

 
 
 
 

Brake

 
 
 
 
 
 
 
 
 
 
 

Front

 
 
 
 
 
 

Ventilated Disks

 
 
 
 
 
 
 
 
 
 
 

Diameter 294mm

 
 
 
 

Rear

 
 
 
 
 
 

LT drums 11.6"

 
 
 
 

Tires & Wheels

 
 
 
 
 
 
 
 
 
 
 

Front & Rear tires

 
 

245/70R16

 

205R16C

205R16C

 
 
 

Wheels

 
 

Alloy 16X7.0J

 

16X6.0J

16X6.0J

 
 
 
SALES CENTER
Dhaka
215, Bir Uttam Mir Shawkat Sarak, Tejgaon, 1208.            Dhaka, Bangladesh
Chattogram
Plot # 03, CDA Avenue, Solashahar C/A, Chattogram
AWARDS
Excellent Sales Growth Award by Mitsubishi Motors Corporation for the year 2010, 2011, and 2012
HOTLINE
EMAIL